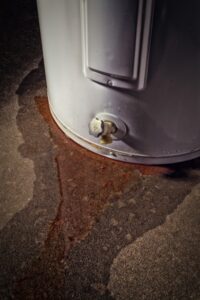 Leaks are never fun no matter where they occur. A leaking faucet means that you need to figure out a way to fix your faucet, while a leaking showerhead means that you may need to replace your current showerhead. But what happens when you encounter a leaking water heater? Does this mean that you need to replace your water heater? Not necessarily.
A leaking water heater could be in need of a replacement or it could simply be in need of a water heater repair in Brandon MS. If it needs a repair you will want to get this service taken care of sooner than later so that you don't end up needing an early replacement. Here is how to tell the difference between when you need a repair or replacement for your system.
When a Leak Requires Repairs
A leak from your water heater does not always mean disaster. Sometimes it simply means that a part needs to be tightened or replaced. This can be good news especially because a repair is often a lot more affordable than a replacement. The key is making sure that you reach out for water heater repairs as soon as you notice you need them rather than delaying.
If you have a water heater that is less than 10-years-old and has been regularly maintained chances are that the leak is something repairable. You can always look for yourself to see if you can find the source of the leak. This does not mean you should open up your system! It just means that you can look around your heater to see if there is a connection or pipe that is leaking. If this is the case you need to call for repairs
What a Leak Means You Need a Replacement
Of course, there will come a time when your water heater needs to be replaced. In some cases, a leaking water heater is one that needs to be retired. If your water heater is a tank system and develops a leak in the tank itself, this is a sign of corrosion and indicates that your system absolutely needs to be replaced. Unfortunately, a leak in your water heater tank is not repairable.
If you are unable to see where the leak is coming from you can always look for other indicators that your system needs to be replaced such as old age (more than 10 to 15 years) or the production of discolored water. Paired with a leak, these are usually indicators of a system that needs to retire.
Still not sure about whether you need to call for a repair or a replacement? That's okay, that is what we are here for. If your water heater is leaking or malfunctioning your best option is to reach out to us to have a professional come check your system. They know exactly how to find the source of your water heater issues and diagnose whether you need a repair or replacement.
Schedule an appointment with the pros at AirSouth Cooling and Heating.