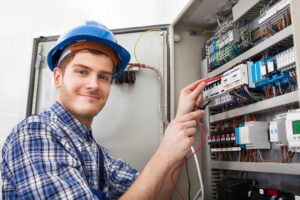 There is a time and place for DIY work–electrical work isn't one of them. While we understand the inclination to try Do-it-Yourself activites to save money and try new things, we'd advise reserving these activites for creating blankets for family members or gardening beds for the yard. Electrical work on your home's systems should be left to a professional electrician in Jackson, MS.
You may be wondering why we advise avoiding DIY electrical work. Yes, we are the professionals that you can turn to for your professional services but that isn't the only reason that we say this. When it comes to working on your electrical system, it is vital to work with a professional because it can make a big difference for your safety and your system efficiency.
What Sets Professional Electrical Work Apart
We emphasize the importance of getting professional electrical work for a reason. Professional service is a good several steps above DIY work. Here's what sets it apart:
Certification and licensing: A professional electrician has the ability to show that they are trained to do what they do with certificates and licensing. These not only show that the electrician is knowledgable about what they are doing but also that they are doing it legally.
Tools and experience: When it comes to getting work from a professional, you will also see a difference in how quickly the job is done. Electricians should show up equipped with the tools, materials, and experience needed to get the job done quickly and effectively. That means no time wasted on trips to the hardware store or watching Youtube videos to get the job done.
Safer service and operation: One of the other big factors that sets professional work apart is that it is safe. For one thing, electricians know how to safely perform whatever the needed service is without putting you or themselves at risk of injury. In addition, the service a pro provides ensures that your system is going to be safe to operate in the future too.
The Risks That Come With DIY Electrical Work
Again, we understand why people consider trying to accomplish their own electrical services. However, we want you to understand that there are risks that come with this course of action. These include:
Reduced electrical efficiency as systems are forced to use extra energy to function.
Reduced lifespan for vital electrical systems.
Increased problems with electrical systems such as electrical arcs or flickering lights.
Physical trouble like burnt outlets or frequent circuit trips.
As  you can see, there is plenty of reason to go to a trained, professional electrician for your next electrical service, whether that is fixing an electrical panel or replacing frayed wires to an outlet.
Coming to our team is going to ensure that your electrical work is done right. What's more you'll also enjoy service that puts you first. Part of our service guarantees is that we always value your time, safety, and respect for your home.
If and when you need electrical work, you can come to us. Schedule your services with AirSouth Cooling and Heating.