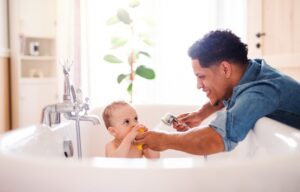 Imagine getting home on a cold day and wanting nothing more than to enjoy a nice warm shower but instead the water you get is lukewarm at best, if not outright cold. It is, first and foremost, bothersome. Beyond that though, this is a sign of a deeper issue with your water heater. We are sure you have enough on your plate right now and we don't mean to add to it. However, if you lose all use of your water heater, you may have an even bigger issue than before.
Rather than trying to avoid the problem, it is better to take note of the warning signs of trouble and reach out for help. If you need a water heater repair in Jackson, MS or a water heater replacement, we can help get the job done. Let's look at the warning signs that your water heater is ready to retire.
Warning Signs That There is Trouble With Your Water Heater
Let's start with some of the general signs that there is a problem with your water heater. Catching these early may help you prevent the need for a system replacement.
Weaker water pressure: Caused by leaks or even by buildup in your water heater. A technician can often find the cause and address it before it costs you the entire system.
Lukewarm water: There may be build-up on your heating elements or a problem with fule getting to your water heater. Whatever the case, get repairs now before there is no warm water to speak of.
Odd noises: A water heater that is rumbling, whistling, whining, or crackling needs a flush.
Indicators That You Need a New Water Heater
Let's say that you noticed some of the problematic signs above but things seem to be worsening far more rapidly than expected. If you pick up on these additional indicators by the time a technician arrives at your door, you may need to discuss a water heater upgrade, rather than repairs.
Old age: You went to look at your water heater and noticed, based on the date of manufacture on the system, that is is getting close to 16 years old. We are sorry to say but at that age, you need to upgrade your system sooner than later.
Frequent repairs: Maybe the above problems are ones you've dealt with before. The question is, how often are you dealing with them now? If you need repairs frequently, it means your water heater is on its last leg.
A leaking tank: We mentioned the potential for a leak to be a problem for your water heater that can be fixed. This is true if you have a leaking pipe or connection. If the leak is in the tank of the water heater, you need to replace it.
No hot water: This is a plain and simple one. A water heater that can't produce hot water isn't worth keeping around.
Need help restoring your access to hot water? We provide 24/7 emergency services so you always have a team of professionals to help you out.
Schedule your hot water heater services with AirSouth Cooling and Heating.