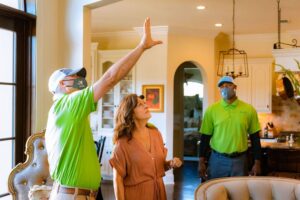 Have you ever walked into a room or down a hallway and discovered your lights flickering when you turn them on? Having this happen once can catch you off guard but if it is a repeated issue then it may mean it is time to call in a professional electrician in Hattiesburg, MS.
We know that seeing flickering lights might seem on-trend with the spooky season but we advise against delaying repairs. The sooner you get an electrician to check things out, the better it will be. After all, you don't want to let your electrical system deteriorate and end up with no lights at all.
What Causes Trouble With Your Lights
There are plenty of problems that can impact your electrical system and mess with the lights in your home.
Issues with wiring: If your home's wiring has been set up poorly or is starting to deteriorate, it may cause a problem with flickering lights. Older or poorly laid out wires can cause electrical arcing which, you guessed it, leads to the flickering in your lights. This is one of the many reasons we advise agaist DIY wiring efforts.
Bad lightbulbs: Are the lightbulbs in the area that is having the problem correctly installed and fully tightened? It is worthwhile to check on this seemingly simple issue especially because it is the one people most often forget about that is easiest to fix.
Problems with power flow: You need a steaady flow of uniterrupted electricity to keep the lights on. This isn't a surprise obviously. However, what may be surprising is that your electrical panel may be the culprit of the lighting issues. If your electrical panel is older, it may not be able to provide a good enough flow of electricity to keep your lighting strong and steady.
Power surges: Is your home protected against power surges? If not, this could be a source of your flickering light issues. A power surge can cause lights to flash bright and them get dim. Make sure to have an electrician check out your electrical panel and install a surge protector if necessary.
Like we said, flickering lights aren't normal and they are usually a sign that something bad is developing. This is why electrical repairs should be provided promptly.
The Electricians at AirSouth Are Here to Help
Whether it is flickering lights or another electrical issue, you absolutely need a professional to help with your maintenance, repairs, and more. That is what our team is here to provide.
The electricians on our team are trained and experienced with handling all types of electrical system services, from installing surge protectors to installing lighting fixtures and more.
Our team believes in providing excellent service and building long-standing relationships with our customers. Whenever you work with us, you'll find you are working with an electrician that values your time, safety, and your home too.
Work with a top quality team today. Contact AirSouth Cooling and Heating to schedule an appointment.