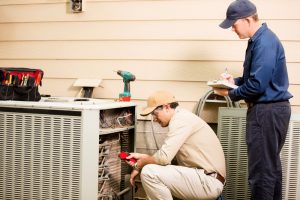 Why sign up for a maintenance plan? Isn't that just a way to squeeze more money out of me? Well, not really.
If an HVAC contractor truly wanted to squeeze money out of you, what he'd do is let your machine break down all the time. That way, you'd have to pay for part replacements and various repairs. Plus, after all those repairs, the lifespan of your system would be severely reduced (meaning an entire replacement is just around the corner).
A good maintenance plan is here to take care of you and your AC for its entire life, not just when you're in trouble. Some of the benefits of a plan will include:
24/7 Service and Member Priority
What good is having your own personal HVAC service in Brandon, MS at beck and call if they can't be there for you whenever you need them?
That's essentially what a good maintenance plan offers. If you're paying the extra for a membership, it means that you're given special privileges whenever you need them—especially when you need them the most.
Emergencies aren't just limited to refrigerant leaks and bad wiring. If your AC breaks down hours before your guests are arriving, or if you simply just can't bear the heat, that's a good enough emergency for an HVAC company.
Plus, the special treatment you get will be unmatched. No consultation or service fees are required.
Discounts and Specials
As an added bonus, many maintenance plans are willing to offer discounts and specials for your loyalty. These can reduce the costs of services needed outside the regular maintenance plans, or they can come in the form of credits or coupons.
If you're getting regular maintenance, the need for surprise repair services will be drastically lowered. But in the event that just such an emergency does arise, you'll be thankful that your maintenance plan has given you a little extra capital to go toward those services.
Prevent Problems and Extend Lifespan of AC
Air conditioners are finely-tuned machines, and every part and component inside them is crucial to the optimal function of the system. In fact, Seasonal Energy Efficiency Ratio (SEER) ratings, the rating that determines an AC's efficiency, only apply to an AC that is up to date with maintenance and repairs. In other words, if you don't allow your AC to run in tip-top shape, then you're losing money.
Anytime that your AC is forced to run with a component or part that isn't operating at its best, it will have a chain reaction on the system that can eventually lead to:
Loss of efficiency
Wear-and-tear
Overheating
More broken parts
Air conditioners can certainly run at less than best performance, but the combined wear-and-tear over time will begin to degrade the lifespan of your system. That's where regular maintenance comes in. By checking on your system one or two times a year, you can avoid 85% of AC problems before they ever arise.
Don't fall behind on your maintenance! We're here to help you live comfortably. Check out AirSouth Cooling and Heating's maintenance plan today.