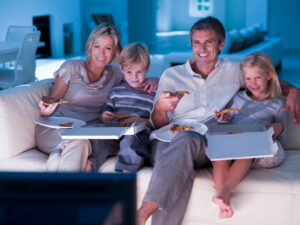 It's time for a movie night. It's a relaxed night and the schedule is clear so it is time to break out your DVD collection or pull up the Netflix account to find a good film to watch.
Evenings like these are what bond family members and friends and creates great memories to look back on years in the future. Those memories will be even sweeter if you can make movie night ultimate. We have some tips to help you do just that.
5 Things That Will Create the Ultimate Movie Night
You want your family movie nights to be awesome, not average. We have some tips to help take your movie night (and your home theater set-up) to the next level.
Break out the popcorn and drinks: No movie night would be complete without some great snacks. Maybe that means just getting out some microwavable popcorn. Or maybe you want to go even further and customize your popcorn. You might grab a soda or two from the store or you might want to try some fun new drink ideas. Whatever you choose, make sure you enjoy it and it will last you at least through the opening credits!
Get comfortable in your favorite lounge clothes: You've been saving your favorite oversized T-shirt and cozy shorts for the right time. And tonight is that time. It doesn't matter if they don't match or if they are 10 years old–you love these clothes for relaxing in. So dig them out and get cozy!
Check out options for adjusting your indoor lighting: You don't want the lights on all the way because they might distract from the movie. But you don't want them all the way off in case someone needs to grab another goodie from the kitchen or make a bathroom run. You can enjoy a great in-between if you come to us for help with your home's lighting. We can set you up with some great home automation options that can include remote-controlled, customized lights.
Opt for a professional home theater set-up. You don't want to fight with an old television that provides a grainy image of your favorite film. Maybe it's time to upgrade your home with a full home theater setup. A member of our team can help with the selection of a new TV, speakers, or anything else you might need. And of course, we will provide the installation and set-up, too. When you come to a professional for electrical services like these you'll notice a big difference.
Try a film you haven't watched before. We know you probably have some tried-and-true favorites on your shelf but why not enjoy something new together? Check out the American Film Institute's list of The 100 Greatest American Films Of All Time and check one out that you've never seen before.
Whether you are looking to take movie night to the next level or you simply need help with some faulty wiring, you can rely on an electrician in Jackson, MS on our team to get the job done right. Contact AirSouth Cooling and Heating to learn more.