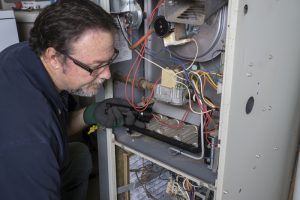 As we begin to enter the chilly fall and winter months, we'll only rely on our heaters more and more. This makes now a perfect time to see if your heater needs replacement. If it is the case that your heater could be replaced, there are two ways you can proceed: Either with a heat pump, or a furnace.
Both systems perform well and have made many homeowners happy, but that's only because they make sense for their lifestyle and needs. In this post, we'll help do the same for you so you can make a wise replacement decision.
What Are the Differences?
Furnaces are your standard home heaters. They're extremely common in the nation because they're reliable, inexpensive to install, and generally pretty efficient. Their main mode of operation is by heating air—either with gas or electricity. The hot air is transported through a series of ducts that are connected to every room in the home.
Heat pumps are a little more high-tech, and they operate more like air conditioners. In fact, they're half air conditioner and half heater. An air conditioner pulls air into the home, passes it over a series of cooling coils, and then pushes the newly cooled air into the home. When in cooling mode, a heat pump uses this same process. When the heat pump is switched to heating mode, this same process is reversed, thus heating your home instead of cooling it.
Traditional heat pumps use a system of ducts, just like a furnace. On the other hand, ductless mini-split heat pumps do-away with those ducts entirely. They consist of multiple indoor air handlers that provide heating or cooling directly to the room they're installed in.
Which Is More Efficient?
Gas-fueled furnaces have to generate their own heat. This process, alone, is not the most efficient in comparison to a heat pump. Heat pumps simply move warmth from one place to another, which requires much less energy to perform.
Electric furnaces are much safer and cleaner than gas furnaces, but their operation is going to cost a little more—simply because the cost of electricity is more than natural gas! If your goal is to avoiding use natural gas, you might want to consider a heat pump instead.
Both ductless and traditional heat pumps have unrivaled efficiency. Even when temperatures drop into the extremes, a heat pump with an auxiliary heating mode will activate a secondary form of heating, powered either by gas or an electric strip. However, all that efficiency does come with a higher cost of installation, so it's something you'll need to factor into your budget.
Which Do I Choose?
While those are some of the key differences between the systems, it's certainly not everything to consider. There are many features that come with both kinds of system that can be explained to you by a reliable HVAC contractor in Brandon, MS.