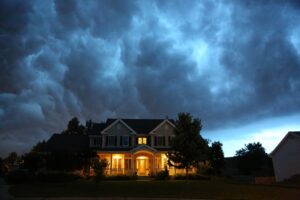 Halloween is fast approaching. Is your house the dark one on your street that always looks like it's vacant? Installing new outdoor lights can liven up your space, make your home more appealing during Halloween, and prevent pranksters from targeting your home. If that sounds good, you may need an electrician in Laurel, MS to bring your home to life this Halloween.
Improve Your Outdoor Lighting
Outdoor visibility is incredibly important, especially with trick-or-treaters approaching your home. Making sure there's enough light is not only welcoming, but it illuminates a clear path so people don't trip or get hurt.
While it may not be fun to think about on such a fun holiday, your home needs to be safe to approach. Visibility is a major part of that safety. There are a lot of ways to improve your outdoor lighting while keeping the style and design that you want for your home.
Keep the Lights on With a Whole-House Generator
Power outages feel like they last forever. Having a whole house generator handy to keep the lights on is crucial to your family's comfort. Allowing a generator to maintain your power also helps with other things such as lowering heating and cooling costs. If your HVAC system powers down for hours due to a power outage or blackout, it has to work hard to bring your home back to its ambient temperature. That means it runs more and incurs more wear and tear on the system. 
Surge Protection That Works
We get it. Whole-house generators are no small expense, especially if your area isn't prone to power outages. Instead, you can keep the lights on with surge protection.
When too much power runs through to your lights, it can destroy wiring and cause extensive damage. Surge protection prevents this from happening in the first place. If your home has endured power surges in the past, you could have damaged electrical components and lights. The last thing anyone wants is to try to turn the lights on after a power surge only to find out that they don't work anymore. Prevent the problem from ever occuring with professionally-installed surge protectors.
24/7 Emergency Electrical
Running into problems in the middle of the night? You can't wait for the standard nine-to-five operating hours of most electrician and HVAC specialists. You need help now.
We offer emergency electrical services to help you with power surges, flickering lights, damaged wiring, and more. You don't have to spend time in the dark or worrying about lighting through your home.
Light Up the Night
Whether it's outdoor lighting or HVAC services, AirSouth Cooling and Heating is available to help you create or maintain a better environment for you and your family this Halloween season. Nobody should spend Halloween in the dark.
Contact us today to get a licensed electrician to install outdoor lighting and keep your home illuminated this Halloween.