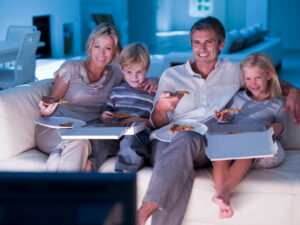 Let us not kid ourselves; watching a movie at home on your standard TV is not as enjoyable as doing so with a home theatre set-up. But since your home can (usually) be anything you want, you can llikely make some upgrades to improve your viewing experieince. Creating an engaging theatrical atmosphere may be one of the things worth considering for your next home project.
Read on to find what you need to learn how to bring the movie theatre experience to your home.
Go For Best Home Theater System
We can benefit from the options that come with the latest smart TVs and subwoofers, or even a full home theater's five speakers. An advanced television alone will not recreate the theatrical setting you are targeting. You need to have the right combination for your space.
Get hooked with the best home theatre system by consulting with us. We will help you select and install the best of home theatre systems from the sound system, smart tv or projector, lighting, soundproofing, etc., saving you costs and time. With our help you may even get long-term warranties and discounts.
Think About Lights
For a standard light setting, talk to home theater experts. You will learn more about dimming the walls with pot lights, fiber optic lighting strips, and wall sconces. These are among the many options an expert will guide you through to help you create the best experience.
Leave the Hard Work to the Experts
Installing a home theater is no easy feat. First, you have to scour through the internet to find the right appliances and how to install them. In most cases, such adventures are time-consuming and costly since you aren't sure about finding high-quality systems or the best options.
Rather than risking purchasing components whose quality is questionable, let the experts do the hard work. Working with experts ensures that;
Installing a home theater requires more than a DIY guide. An expert will complete the job within the shortest time possible and do it to perfection. Unfortunately, the latter may be costly since you already lack experience in the field.
You will have a stress free experience
Our lives are full of ups and downs, and compounding the stress by trying to DIY your home theater project might make things more stressful. If a pro takes the full scope of the job, you will avoid a lot of stress. Plus, it gives you ample time to work on other productive projects
Best after-sales services
The indispensable advantage of working with certified installers is you will always have someone to talk to in case of problems with the system. This includes answering some of the critical questions that only an expert can handle and helping you to fix minor errors.
Get the Best Home Theater Installation Services
Working with home theater technicians protects you from stress, qualifies you for invaluable after-sales services, and is cost-effective. So, if you're looking for home theater installation in Jackson, MS, let Airsouth Cool and Heating be your last stop. Besides excellent home theater installations, we are experts in getting your home comfort and functionality in order.