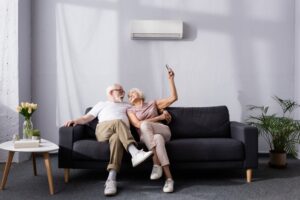 If it's time to replace your older air conditioner with a newer unit, you may want to know what all of your options are before making a decision. The good news is, our team installs and services a wide variety of air conditioning units.
We're the team you want to talk to you for AC installation in Brandon, MS. After all, investing in an air conditioner is a big decision because it will be in your home for 10-15 years, if not longer. You can keep reading to learn more about the different types of air conditioners we install and the pros and cons of each one.
Central AC
A central air conditioner is considered the most standard option. It's what gets installed in most new homes and it's likely you have used one at some point in your lifetime. Central air conditioners were the first step toward whole-house cooling after smaller window air conditioners and portable units. As technology has expanded, these units have become more and more energy efficient.
If you already have a central air conditioner, replacing it with another central air conditioner makes the installation process a breeze. All of your existing connections should line up and there will be little need to change connections to match your new unit. Of course, if we do need to replace any of the existing wiring or connections to better power your new air conditioner, we will do that. 
Central air conditioners are also highly efficient, although some of the cool air produced by your air conditioner may get trapped or lost in the ductwork if it is not laid out properly or there are holes. But, if you invest in duct services to keep your ducts in great condition too, your central air conditioner will be highly energy efficient.
Heat Pump
A heat pump is very similar to a central air conditioner, although it operates slightly differently. Its primary method of cooling is removing heat from the air and transferring it outside. One huge benefit of a heat pump is that it also works as a heater, so during the winter it can bring heat in from the outside to warm up your home. This method of transferring energy is very efficient and may lower your energy bill compared to a central air conditioner.
While heat pumps work very well in summer no matter how hot it gets, a heat pump can struggle in extremely cold climates that experience temperatures in the single digits. However, that's not something we have to worry about in Mississippi. This is part of what makes heat pumps ideal for our climate.
Ductless Mini Split
A ductless mini split unit is completely unique compared to a central air conditioner. It does use a heat pump system, so it offers both heating and cooling. But there is no central indoor unit and no ductwork. You still have a central outdoor unit, but attached to that are smaller mini air conditioners that get installed in each room of your home.
Because 100% of the air that gets cold blows directly into your home, these units are considered highly energy efficient. In fact, you can slash your energy expenses by up to 50% compared to using a central air conditioner.
Contact AirSouth Cooling and Heating today to schedule an appointment for air conditioner installation.