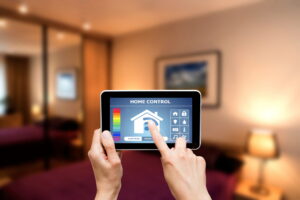 Technology grows and expands with each passing day, offering new abilities for your home and appliances. You may be wondering if home automation systems are worth the investment. The short answer is, yes they are.
But you always want to make sure that you have a certified professional completing any electrical service in Meridian, MS. Home automation systems are not where you want to attempt a DIY project. You can keep reading to learn more about the three benefits of home automation systems and why you want to have a professional install and service home automation technology.
Safety
The top benefit that comes to mind for most homeowners is safety. Many home automation systems have a safety element integrated into the offering. Some of the top examples include security systems and smart locks. You can get alerts if windows or doors are opened, set alarms for when you are asleep or away, and even monitor your home from anywhere. Aside from general safety, these features can also offer you substantial peace of mind.
Efficiency
Home automation systems also boast the ability to improve the efficiency of your home. Two examples of this are smart lights and a smart thermostat. A smart thermostat can help you regulate temperature settings to be slightly higher in the summer and lower in the winter when you are away from home. You can still keep your home comfortable while slightly adjusting the temperatures to save on energy costs.
Then, your smart thermostat can automatically adjust the temperatures to an even more comfortable level before you arrive back home. If you forget to turn lights off, smart lights will allow you to switch them off remotely using an app on your phone. These small steps can add up to big savings.
Ease of Use
Both of the examples above also boast the benefit of making things easier to use. You may have the best intentions of adjusting your thermostat settings before leaving for the day. However, there will be days you forget. You can't turn around and drive back home to turn off the lights or adjust your thermostat, but you can do it from your smart device. It doesn't get much easier than that.
Expert Installation
Before you attempt to install any home automation systems on your own, we encourage you to talk to our team first. Expert installation offers a variety of benefits. You know that your systems are being installed correctly. If they're not, our work has a guarantee and we will come back out and fix any issues. You don't have that same peace of mind when you attempt to install the system on your own. Plus, a DIY installation job could be risky since you are adjusting electrical connections.
Contact AirSouth Cooling and Heating today to schedule an appointment for home automation system installation.