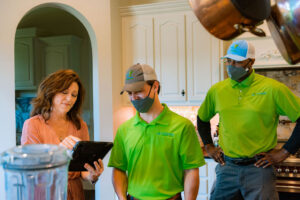 How safe do you feel your home is when you go to work or go on vacation? Does leaving your home make you feel nervous that you'll come back to broken windows and missing belongings? Even if it doesn't, ensuring that your home is safe and secure is always a good idea. After all, "prevention is the best medicine" doesn't just apply to physical health!
But how exactly are you supposed to keep an eye on your home when you're gone? It's one thing to have good locks on your doors and windows and another thing to be in two places at once. You've probably guessed already but we're not asking you to be in two places at once. We're asking you to consider the idea of adding a home security system so that you can rest easier when you're away.
Why Consider Adding a Home Security System
You may be wondering whether or not a home security system is a good idea, espeically if your home has never been the target of a break-in or burglary. We'd say that it is very much worth it especially because with better home security in Brandon, MS because:
It protects you: First and foremost, a good security system, whether it is a smart doorbell, motion-detecting security lights, or a Wi-fi security camera, help to protect you and anyone else at home. This is the most important duty of your security system and it is a job well done if the system is installed correctly.
It deters robbers: It has been found time and again the home security systems deter burglaries and breakins. With proper installation and clear indicators that your home is well watched over, these individuals are far less likely to make your home a target.
It prevents home damage: Good home security doesn't just protect against break-ins, it also helps to prevent vandalism and property damage. People are far less likely to try to do damage to a place when they are going to be caught in the act.
It can help reduce home insurance: Different home insurance companies actually offer discounts if you install a home security system. After all, a home that is better protected is less likely to need to cash in on their home insurance policy. This does depend on your policy holder though so call and check first!
It provides better peace of mind: We can't skip this one! When you home has a good security system you can rest easier when you are home and away. Even if you are just going to work you'll be better able to concentrate when you aren't worried about someone trying to break in–the same goes for your ability to enjoy your next vacation!
If you are looking to add a home security system then we'd advise turning to a professional electrician to get the job done. After all, you want this system set up as optimally as possible from the get-go! When you need professional installation, you can come to us.