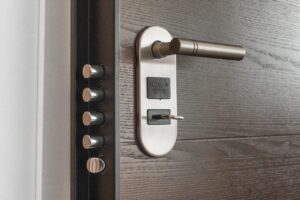 Everyone wants to feel safe at night, but with over 2.5 million burglaries in the US every year, it's hard to sleep at night wondering if your home is the next target. Americans are investing in home security systems at an alarming rate, and for good reason. If you're seriously considering an upgrade with home security systems in Jackson, MS, this is what you need to know.
How Better Home Security Helps You Sleep at Night (Literally)
Stress isn't just an emotion; it's a physical reaction that happens in your body (it releases cortisol, which can damage your health). It's related to adrenaline, which, as we all know isn't exactly what puts people to sleep. All these negative emotions can come on when you worry about a bump in the night, or when you lay down and know that your home isn't as protected as it could be.
Having a home security system you know you can count on actually does make you feel more secure and help you sleep. It's actual peace of mind; it's not just an expression when it comes to your home security system.
You May Be Able to Reduce Your Homeowner's Insurance
This depends on your area and your homeowner insurance provider, but the one-time installation of your home security system can actually save you money for years moving forward.
Check with your homeowner insurance provider to find out if they offer discounts. In some areas, you can find monthly savings of up to 20%. That knocks off 2.4 entire insurance payments per year. Imagine what you could do with that. You could invest in more home security or simply sit on the savings.
Prevents Most Thefts in the First Place
When your home has a clear home security system, thieves take note. They don't want to break into a home with window locks, outdoor cameras, motion-activated flood lights, and other home security measures. It increases their risk of being caught.
Depending on how you position your home security system, and if you follow some basic security tips, you can deter criminals from targeting your home in the first place.
Detects Fires and Gas Problems
Home security systems are only getting smarter. Did you know that you can make your home detect fire and gas problems for you? If you install the right system, it can notify you of home threats so you can contact the fire department even if you aren't home. Remote access and notifications make it possible.
Improved Home Security is an Investment You Never Regret
Your home security is something you'll never regret investing in. Peace of mind, better protection for your family, and lower monthly payments on your homeowner's insurance are just a handful of the reasons you should schedule an installation as soon as possible.
Don't Let Uncertainty Ruin Your Sleep
You deserve a good night's sleep without worrying about your home. Security systems help prevent burglaries, reduce homeowner rates, and improve the value of your home at the same time. It's the wisest investment you'll make in your home this year.
Contact AirSouth Cooling and Heating today to discuss the next steps in the evolution of your home security and upgrade your quality of life.