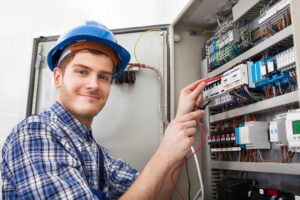 Whether your home is older or newer, there are some benefits to partnering with a professional electrician to upgrade your home. Some newer homes already have some of the features we are highlighting below, but not always.
You can keep reading to learn more about five electrical home improvements that can make your home safer and more convenient. Then give our team a call when you need an electrician and Brandon, MS. Even if you're not sure what you need, we can offer an assessment of your home and make recommendations.
Electrical Outlets
Electrical outlets have changed a lot over the years. Not only are they now safer, but they also offer a wider variety of plug options than before. For example, you can upgrade your electrical outlets to be tamper-resistant for children. No more plugging covers into all of the outlets around your home in an effort to keep little fingers out.
The same outlets can also have USB options so you can plug cords directly into the outlet instead of having a plug adapter. Plus, many outlets now come with arc-fault circuit interrupters (AFCIs) to keep your home, appliances, and electronics safe from any potential electricity surges. 
Smart Technology
When you want to upgrade items around your home to smart technology, it's best to invest in the help of a certified electrician. Examples include smart thermostats, security systems, smart doorbells, lights, and even smart appliances. It's possible that the electrical components in your home need to be upgraded to accommodate the new features. We can help you upgrade your entire home or just certain areas.
Ceiling Fans
If you don't already have ceiling fans installed around your home, it's a great idea to invest in them. Ceiling fans can contribute to your overall home comfort and even lower your energy bills by making your home feel more comfortable. In the summer, the airflow from a ceiling fan can make your home feel cooler than it really is. This allows you to set the thermostat a little higher and use less energy to cool your home. In the winter, ceiling fans can be reversed so that they help bring down heat that naturally rises to the ceiling.
Electrical Panel
If your home is significantly older, you may need to upgrade your entire electrical panel. Even if it seems like everything is still functioning, an upgraded electrical panel is much safer and may elevate your home experience. If you notice lights flickering or have to flip circuit breakers frequently, that's a sign that your electrical panel needs to be upgraded. 
Technology has grown leaps and bounds in recent decades, and older electrical panels were not designed to handle the number of electronics that are in homes nowadays. You may be lacking the number of electrical plugs you need or your electrical panel may be overwhelmed by the number of things you're plugging in.
New Lights
Installing new lights in your home may be more of a want than a need, but it can still be an important project. Many older homes don't have as many light fixtures as newer homes. Whether you want to upgrade to a different style of lighting or simply have more lights available in your home, our team can help.
Contact AirSouth Cooling and Heating today to schedule an appointment for all your electrical needs.