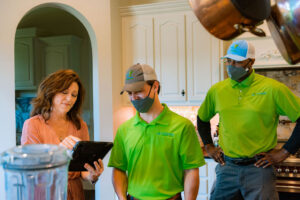 The cost of replacing an air conditioning unit in 2022 ranges from $4,000 to $12,000. So, it is unsurprising that the thought of an AC replacement can be scary for many people. Some even rank this decision up there with purchasing a car.
But how much is too much when it comes to fixing your existing AC unit? When do you draw the line, decide to bite the bullet, and invest in replacing your AC unit rather than continue to have it repaired?
Fortunately, we know all about air conditioners and can help you decide when it is time to stick with an air conditioning repair in Jackson, MS and when it is time to opt for a replacement.
The Rule of 5000
A good rule of thumb for deciding whether an AC replacement is due is known as the rule of 5000. This is how it works:
Multiply the repair cost by how old your unit is. If the amount is over 5,000, it is time to invest in a new air conditioner.
For instance, if the repair cost is $400 and your unit is 10 years old, the end number is 4,000. This means you may be able to get by with repairing your AC and getting a few more years from it. But if your repair bill is $450 and you have a 12-uear-old AC, you are looking at a system that needs to be replaced.
Cost Comparison
Another good rule to remember is to check the cost of a new system and compare it to the cost of a repair. If your repair bill cost could pay for half or more of the price of a new system, then it is better to put that money towards a new AC instead.
Other Factors to Consider
Are there other warning signs that it is time to replace your AC? The answer is yes! MAke sure to talk to a technician if you notice these indicators:
Your Energy Bill has Been Increasing Due to Inefficiency
Is your energy bill shooting through the roof? If so, it may be time for you to say goodbye to your old AC unit and say hello to a new model.
Older AC systems have to work harder to move the same amount of air throughout your home. This makes them less efficient. If your unit is getting less efficient with age, even with regular maintenance, it means that it has outlived its useful service lifespan.
Frequency of Repair
An AC can last 15 to 20 years, depending on how regularly it recieves maintenance and expert repairs. A replacement is due if you have repaired your system on a yearly basis over three years. Buying a new unit will save you money, and you will enjoy a reliable air conditioner for at least the next decade or more.
If you need to repair or replace an AC unit, you can come to AirSouth Cooling and Heating for the service you need. We install and service HVAC systems in the Jackson metropolitan area. Our highly trained technicians can diagnose your AC problems and find the perfect HVAC solution to fit your budget.
Contact Airsouth Cooling and Heating today to schedule an appointment.