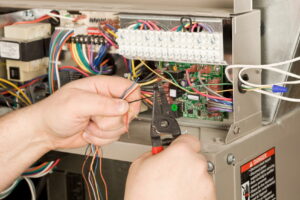 Your furnace is on the fritz. You don't know what the problem is, but you're sure it's something below the surface that you can't fix on your own. You finally call for repair, and now you're left in limbo.
What do you expect from furnace service in Hattiesburg, MS? What does that visit look like, and what will the technician do? Don't let your mind race. We'll go over what you can expect and what this repair call will achieve.
In-Depth Inspection of Your Unit
Your furnace has a lot of working parts. During your service appointment, a technician will inspect everything; not just the part that's broken. This way they can determine if anything else in your furnace looks like it's about to fail.
More specifically, an inspection will serve the following purposes:
Testing your blower's amp draw. The amps it pulls relate to how much power your blower produces. Too much power means a sensor failed and needs to be replaced; too little could signal that your blower has failed.
Startup cycle testing. This is essentially turning your furnace off and on a few times and ensuring there are no problems or warning signs during the initial startup.
Lubricating metal parts. Metal can rub against metal as long as there's proper lubrication between all moving parts. If not, it grinds and causes damage.
Examining belts. If your belts have cracks or extreme fading, switching them out now will save you a hassle down the road.
Inspecting the heat exchanger. Your heat exchanger is where dangerous gasses are funneled so they can be pushed outside of your home. If it's cracked, a leak could cause carbon monoxide poisoning.
Examining fuel lines. If you have a gas furnace, those fuel lines need to be checked for leaks and overall damage.
Checking gas pressure. Gas pressure levels are important. Your technician will check this during their visit.
Detailed Cleaning to Maintain Operational Performance
Dirty furnaces lead to airflow problems. Your furnace heavily relies on airflow to function properly. A technician will clean:
Clearing the blower. If the blower has debris or excess dust buildup, it needs to be removed.
Removes air intake blockages. This goes beyond just switching out an air filter.
General cleaning. A quick cleanup of the entire furnace to remove dust buildup.
Slight Tweaks and Adjustments
If anything is out of sorts, this is the time to fix it. This is the time for your technician to calibrate the thermostat for your furnace or test your ducts for leaks.
A technician will close everything up the way they found it and make sure it's running properly before finalizing your service.
Schedule Your Next Furnace Repair Now
If you haven't already scheduled a furnace repair and you read this blog to help you bolster up the nerve to do it, then we urge you to make a call as soon as possible. The longer that your furnace sits in disrepair, the more potential damage it could endure.
Contact AirSouth Cooling and Heating today to handle your next furnace repair and keep your unit in tip-top shape.